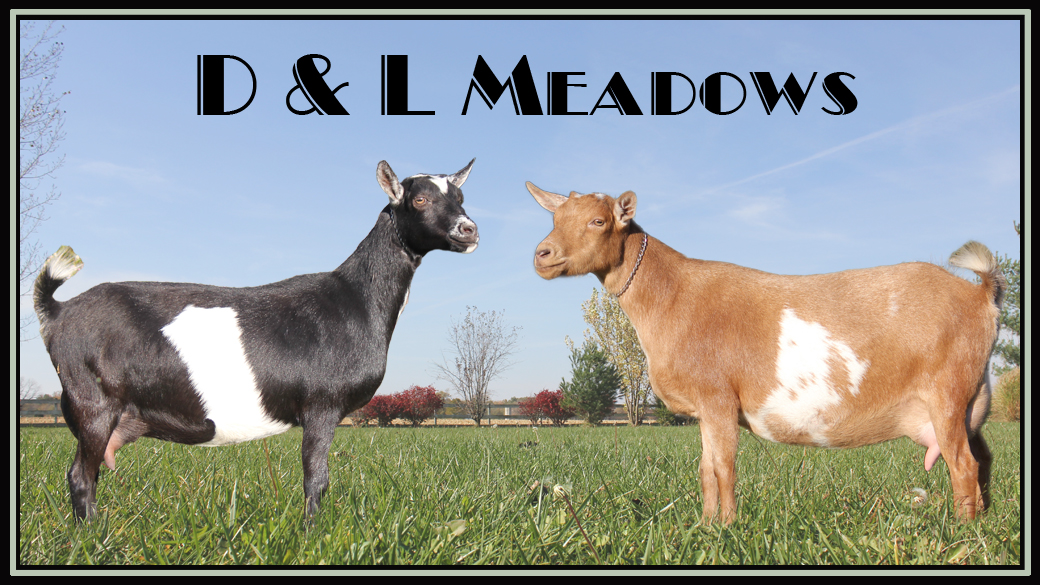 Sinai Thunder C Gold and Myrrh 2*M AR, 2*D AR
| | | |
| --- | --- | --- |
| DOB: 12/16/2012 | Triplet | Height: |
Sire: Muddy Creek BC Caribou +B +S +EV FS85
Dam: Helmstead Minis TM Fergie 2*M AR, 2*D AR VEV+87

Milk Test High: 4.6#
Milk Test High:4.6#
305 Day: 1055#

2016 AGS National Top 10 Award: 10th for BF with 74#, 10th for Protein with 45#

Gold and Myrrh (aka Goldie) is in her third lactation. Goldie obtained her AR star in 2014-2015 season. She milked over 900 lbs of milk which is good for a first freshener. Goldie placed 10th in the butterfat and protein production in the 2015-2016 season with AGS Goldie's dam Helmstead Minis TM Fergie made it on the top ten list of the AGS for 2014. She gave over 1057 lbs of milk.

Back to top
Sinai Thunder C Gold and Myrrh 2*M AR, 2*D AR
Sire: Muddy Creek BC Caribou +B +S +EV FS85
Sire: Rosasharn UP Bronze Copper *B *S +EV FS85
Sire: Rosasharn CH Uproar ++*B VEE FS87
Sire: Rosasharn UR Honey Nut Cheerio *S
Sire: Rosasharn's TL Unregrettable +*S
Dam: SG ARMCH Rosasharn's Buckwheat Honey 3*M AR, 3*D AR EEEE91
Dam: SG ARMCH Rosasharn's Uni 2*M AR, 3*D AR EEEV90
Sire: ARMCH Goodwood Tom Thumb ++B +*S FS88.6
Dam: Rosasharn's Baby Usa 2*M, 2*D AR
Dam: SG Rosasharn's TL Mariposa 3*M AR, 4*D AR EEE+88
Sire: ARMCH Rosasharn's Tiger L ++B ++*S +AE FS82
Sire: Stonewall's Apocalypse Now +*S
Dam: ARMCH Goodwood Water Lilly 1*M, 2*D AR
Dam: SG ARMCH Rosasharn's Guadalupe Moteada 2*M AR, 3*D AR VEEV90
Sire: ARMCH Goodwood Tom Thumb ++B +*S FS88.6
Dam: Stonewall's Baby 'Uddercup 1*M, 2*D AR
Dam: Kids Corral PT GingerbreadGirl
Sire: Kids Corral Pat's Tenor
Sire: Flat Rocks Crescendo
Sire: Ponders End FO Minstrel Show
Dam: Flat Rocks Gazelle
Dam: Doe-Sy-Doe's Patches 8*D
Sire: ARMCH Rosasharn's Tiger L ++B ++*S +AE FS82
Dam: Doe-Sy-Doe's LIl Angel 7*D
Dam: Doe-Sy-Doe's Ginger
Sire: ARMCH Rosasharn's Tiger L ++B ++*S +AE FS82
Sire: Stonewall's Apocalypse Now +*S
Dam: ARMCH Goodwood Water Lilly 1*M, 2*D AR
Dam: Doe-Sy-Doe's LIl Angel 7*D
Sire: MCH OTR Magic's M Heracles +S
Dam: Stonewall's L'il Honeysuckle 6*D
Dam: Helmstead Minis TM Fergie 2*M AR, 2*D AR VEV+87
Sire: Thunderhill A Merlot
Sire: Meadow Blue Farm Ace
Sire: Cornerstone Farm Calah *S
Sire: ARMCH Munchranch PH Magic Marker +*S
Dam: Cornerstone Farm Phebe 1*D
Dam: Caesar's Villa GS Zillionaire
Sire: Caesar's Villa STS Gun Slinger *S
Dam: Caesar's Villa Oreos Zestana
Dam: Anbonjo HRL Painted Daisy
Sire: QSF Anbonjo Hot Rod Lincoln
Sire: Twin Creeks MF Prairie Hawk *S
Dam: QSF PH Porsche
Dam: Milky Whey's Minuet
Sire: MCH Goodwood X-Ray +S
Dam: Gay-Mor Domino's Marmoset
Dam: Little Tot's Estate Kirby 1*M, 1*D
Sire: GCH Buttin'Heads Red Branch Legend +*B *S
Sire: Buttin'Heads Galziping Ghost +B *S
Sire: Twin Creeks BW Zip Drive *S FS86.8
Dam: ARMCH Buttin'Heads Maple Seedling 3*D AR
Dam: GCH Buttin'Heads Wedding Song 1*M, 3*D AR EEEE91
Sire: Creek Road Hudson +S
Dam: Buttin'Heads Bryedal Veil 2*D
Dam: Little Tot's Estate Platycodon
Sire: PromisedLand CP Zippo *S
Sire: SG MCH Caesar's Villa CBS Cowpoke ++B ++*S
Dam: Caesar's Villa GD Zippy 4*D
Dam: Little Tot's Estate Asclepias
Sire: GCH SM3Pines JurEn's Swell Foop +*B
Dam: Little Tot's Estate Larix
Back to top
305 DHI Totals
Milk Volume
305 days
Fat
Protein
2014-2015
904 lbs
67 lbs
40 lbs
2015-2016
1055 lbs
74 lbs
45 lbs
2018-2019
746 lbs
49 lbs
31 lbs
2019-2020
853 lbs (in 326 days)
50 lbs
28 lbs
Back to top
DHI Records
DHI 2014-2015
Date
Days In Milk
Lbs Milk
Fat %
Protein %
Somatic Cell Count
x 1000
9/6/2014
33
3.8
6.0
3.8
71
10/11/2014
68
3.4
7.4
4.4
93
11/13/2014
101
3.2
7.7
4.4
200
12/13/2014
131
3.2
8.0
4.6
214
1/2/2015
151
2.5
8.5
4.4
152
1/24/2015
173
3.0
6.8
4.1
100
3/2/2015
210
2.7
7.7
4.8
93
4/2/2015
241
2.5
7.4
4.5
187
5/1/2015
270
2.2
8.0
4.5
373
6/6/2015
306
3.1
7.5
3.9
174
Total Milk
907.0 Lbs
Fat
67.0 Lbs
Protein
40.0 Lbs
DHI 2015-2016
Date
Days In Milk
Lbs Milk
Fat %
Protein %
Somatic Cell Count
x 1000
10/24/2015
27
4.6
6.8
4.1
373
11/28/2015
62
4.4
6.8
4.2
200
12/26/2015
90
3.8
6.9
4.0
2263
1/29/2016
124
3.8
6.7
4.4
230
3/12/2016
167
3.5
7.2
4.5
857
4/20/2016
206
3.5
6.7
4.4
246
5/21/2016
237
2.3
7.2
4.4
3676
6/27/2016
274
2.7
7.0
3.9
264
7/23/2016
300
1.8
8.4
4.1
264
8/27/2016
335
1.7
8.8
4.4
696
Total Milk
1107.0 Lbs
Fat
78.0 Lbs
Protein
48.0 Lbs
DHI 2018-2019
Date
Days In Milk
Lbs Milk
Fat %
Protein %
Somatic Cell Count
x 1000
3/3/2018
20
3.9
5.0
3.9
429
4/10/2018
58
3.3
5.4
4.0
696
5/12/2018
90
3.2
5.5
3.9
1131
6/8/2018
117
2.2
5.8
3.8
566
7/7/2018
146
2.5
7.9
3.6
1056
8/17/2018
187
2.0
6.5
4.2
857
9/25/2018
226
2.1
6.8
3.9
1393
11/3/2018
265
1.1
8.6
4.7
1213
12/7/2018
292
1.9
7.4
4.4
746
01/04/2019
327
1.7
7.6
4.9
3676
Total Milk
786.0 Lbs
Fat
51.0 Lbs
Protein
32.0 Lbs
DHI 2019-2020
Date
Days In Milk
Lbs Milk
Fat %
Protein %
Somatic Cell Count
x 1000
10/11/2019
34
4.1
0
0
0
11/19/2019
73
3.4
7.3
4.1
1493
12/26/2019
110
2.5
7.6
4.4
3940
02/07/2020
153
2.2
7.7
4.4
2425
3/19/2020
194
2.1
7.6
4.2
3458
4/28/2020
234
2.3
7.5
3.9
1838
5/21/2020
257
2.6
7.1
4.4
1838
06/19/2020
286
1.9
7.7
4.4
1131
07/29/2020
326
1.8
7.5
4.4
1213
Total Milk
853.0 Lbs
Fat
50.0 Lbs
Protein
28.0 Lbs
Back to top
Last update: 10/17/2020